Welcome to LIZ GER, I am Leez jones, one of the designers of Liz Ger, Liz Ger designs personalized gifts for friends and family to show our love.
How Liz Ger started
I've always been bad at expressing my feelings for friends and family directly in words, I like to make fun gifts to help me express my love for them, on a friend's birthday, I designed a cute friendship illustration to put on a t-shirt, and when she saw it was teary-eyed, that's when I was sure I was doing it right. I wanted to share this way of sending love to as many people as possible, so I set up Liz Ger with a few designer friends.
Personalized Gifts
Liz Ger designers are constantly coming up with personalized gift designs, t-shirts, pillows, mugs, posters and more. Each part of the design has been revised several times by our designers to make the gift design more flexible, allowing each client to personalize it completely, with personalized skin tone, hair style, clothing, name and background. Let you enjoy the experience of being a designer while customizing your gift. We believe it's an experience like no other.
Spread More Love
We believe that the love between family and friends is eternal, and Liz Ger expresses this love in a personalized way and brings it to as many people as possible.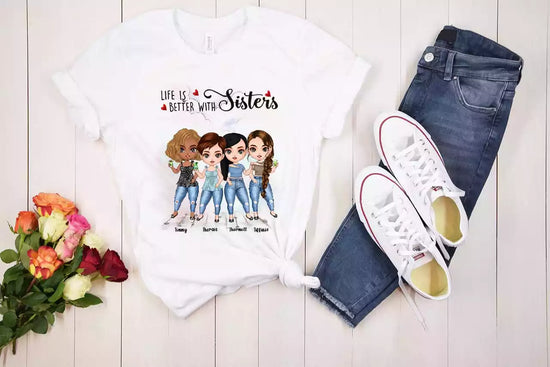 Personalization time:
* Order processing time: 1-2 days

* Production time: 1-5 days

* Shipping time: 5-7 days